Micole Gauvin
Hi! Γεια! I'm Micole (yep, wiith an 'm'! 🙂 )
I was born and raised in southern Wisconsin ~ but about 5 years ago I traveled halfway 'round the world to teach for a year in Greece and ended up finding myself, the love of my life, and yoga! Since then, my yoga practice has helped ground me through all life's ebbs and flows.
I completed my 200-hour YTT certification at The Studio in Madison through Alex Pfeiffer's 21st Century Yoga on the Mat.
A few months after finishing my YTT program, I rolled up my mat and moved back to Athens, Greece to be in the same time zone as my now-husband and teach fourth grade.
My classes tend to ebb and flow somewhere between vinyasa and hatha style flows, with modifications to help meet you on the mat wherever you happen to find yourself that day. In my classes, I hope you find a sense of groundedness and strength you can carry with you on and off the mat.
So grateful and excited to meet you on the mat! 🙂
(Follow me on facebook or instagram at @yogawithanm.)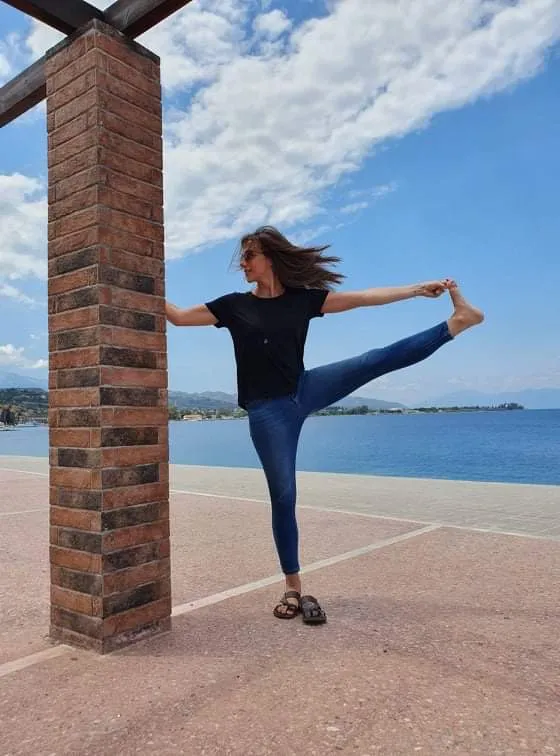 Micole did an excellent job leading the class. She is very informed and gives options for the different poses depending on your level. She has a very relaxing voice. She treats each of her class attendees with respect. I would recommend her to everyone.

– Ann G.
I was excited to practice with someone living in Greece, it was a nice connection. The class was excellent, the stretches targeted areas of my body that are a bit tense and needed the workout. Overall, it was a phenomenal experience. Thank you!

– Maria K